Ensaios em Embalagens
• Condicionamento acelerado
• Integridade
• Resistência
• Estabilidade

• Ciclo de distribuição
• Validação de Processos
produtivos
• Shelf Life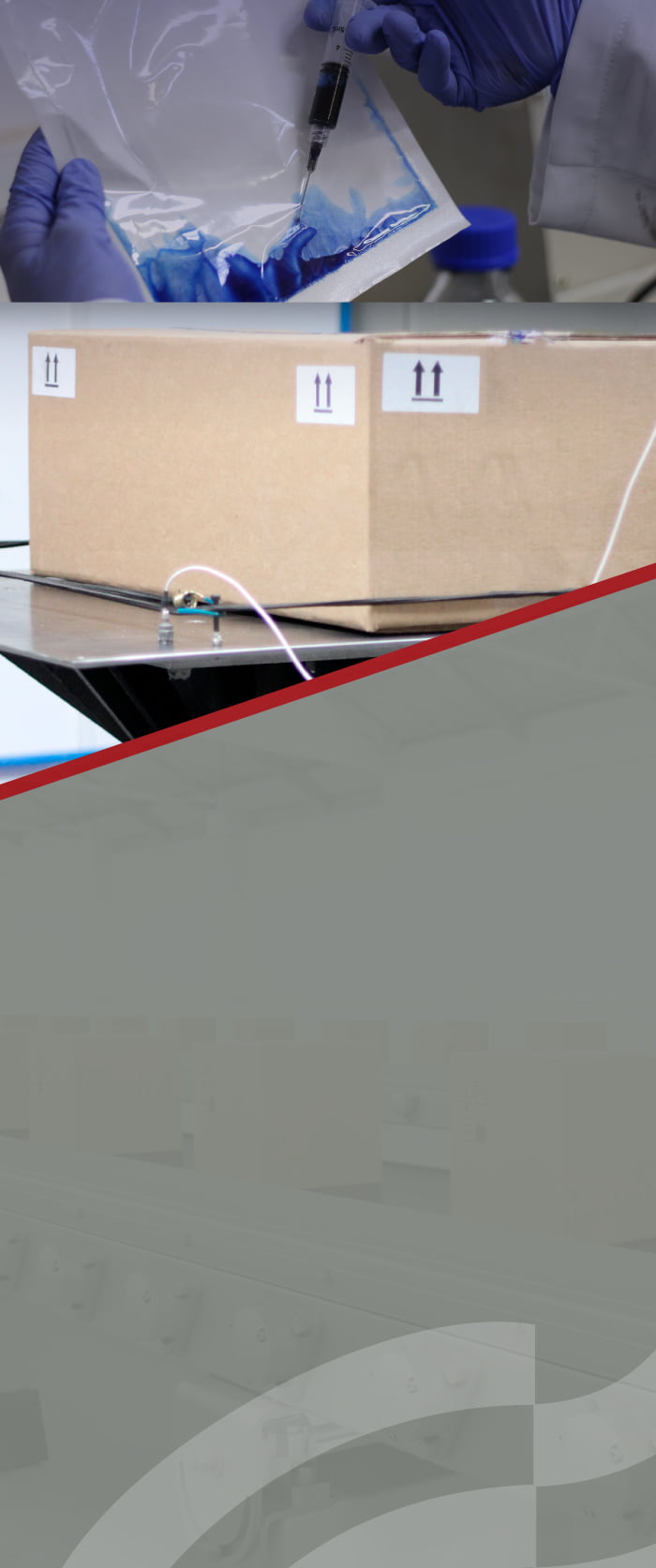 Como funcionam os ensaios?
Com o objetivo de analisar o desempenho das embalagens, além de garantir que atendam os respectivos requisitos normativos, os ensaios realizados pela SCiTec visam avaliar a integridade, resistência e estabilidade de embalagens, bem como dos produtos, de modo a fornecer dados que permitam às indústrias garantir maior qualidade e segurança aos seus clientes.
Ensaios de migração

Shelf Life

Requisitos obrigatórios

Resistência ao transporte

Otimização da embalagem

Condicionamento acelerado

Adequação ao ciclo de distribuição
Normas
ASTM D4332 – Standard Practice for Conditioning Containers, Packages, or Packaging Components for Testing
ASTM F1140/F1140M – Standard Test Methods for Internal Pressurization Failure Resistance of Unrestrained Packages
ASTM F1929 – Standard Test Method for Detecting Seal Leaks in Porous Medical Packaging by Dye Penetration
ASTM F1980 – Standard Guide for Accelerated Aging of Sterile Barrier Systems for Medical Devices
ASTM F2054/F2054M – Standard Test Method for Burst Testing of Flexible Package Seals Using Internal Air Pressurization Within Restraining Plates
ASTM F2096 – Standard Test Method for Detecting Gross Leaks in Packaging by Internal Pressurization (Bubble Test)
ASTM F3039 – Standard Test Method for Detecting Leaks in Nonporous Packaging or Flexible Barrier Materials by Dye Penetration
ASTM F88/F88M – Standard Test Method For Seal Strength Of Flexible Barrier Materials
RDC 498/2021;
RDC 52/2010;
Portaria 27/1996;
RDC 56/2010;
RDC 51/2010 e  RDC 105/1999;
RDC 326/2019;
RDC 123/2001;
RDC 20/2007.
O laboratório SCiTec oferece completa infraestrutura para ensaios de embalagens como, por exemplo, ensaios de condicionamento acelerado e em tempo real, ensaios de integridade, resistência, e ensaios de ciclo de distribuição. Além desses serviços, também realizamos estudos de estabilidade de produtos acabados e validação de processos produtivos.
Soluções em ensaios de materiais e produtos